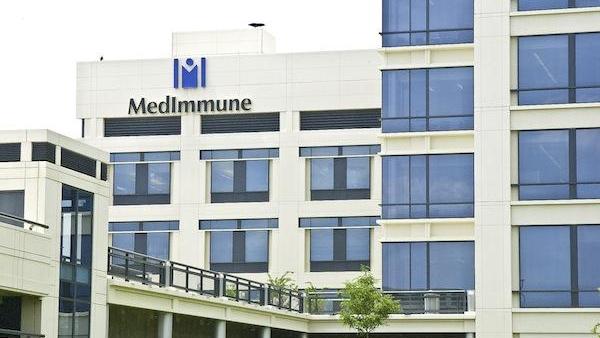 Gaithersburg-based biotech MedImmune and a division of 3M unveiled plans Friday to work together on a next-generation cancer immunotherapy drug.
Under the agreement, MedImmune — the biologics research and development arm of U.K. pharmaceutical giant AstraZeneca (NYSE: AZN) – licensed an agent called MEDI9197 from 3M Drug Delivery Systems. 3M said it developed the molecule as an injectable treatment for head and neck cancer that stimulates the body's immune system to attack and destroy tumors.
Called a "toll-like receptor agonist," the molecule can enhance the visibility of a tumor to an individual's immune system, officials said. The U.S. Food and Drug Administration recently accepted an investigational new drug application for a Phase I study of the molecule.
MedImmune and 3M are not releasing financial terms of the deal. Under the agreement, MedImmune is responsible for the clinical development and strategy for MEDI9197 and will hold the exclusive rights to conduct research on new molecules developed through the collaboration with 3M. The agreement includes an upfront payment and development-related milestone payments for MEDI9197 in additional to research funding paid by MedImmune to 3M.
The deal will further MedImmune's investment in the cancer immunotherapy space. In August, MedImmune entered a collaboration with Inovio Pharmaceuticals to research cancer immunotherapy therapy in a deal that could total $700 million.
MedImmune also has clinical stage immuno-oncology programs that include tremelimumab, anti-OX40, and durvalumab (MEDI4736). The pharmaceutical is pursuing multiple monotherapy and combination studies. For instance, its late-stage immuno-oncology program it has 17 clinical studies and more than 9,000 patients in lung, bladder, head and neck, and other cancers.
Last year, AstraZeneca fended off a takeover bid from rival Pfizer, which sought in part to acquire one of MedImmune's immunotherapy products in late-stage clinical trials for non-small cell lung cancer.