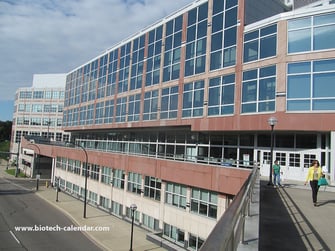 The Comprehensive Cancer Center at the University of Michigan, Ann Arbor is one of only 45 comprehensive cancer centers in the United States, and provides cutting-edge cancer research. Researchers from 48 different university departments and 9 schools work together in the cancer center to find answers to some of the toughest questions that scientists face when learning about cancer. The university and Cancer Center will soon be expanding their research capabilities thanks to a generous $17.5 million donation from philanthropists Madeline and Sydney Forbes.
The $17.5 million donation, the largest private donation for cancer research in the university's history, will establish the new Forbes Institute for Cancer Discovery to be located within the Cancer Center. Within this new Institute, scientists from all over the university will work to make advances in cancer research through different high-risk, high-reward initiatives. (Image courtesy of Biotechnology Calendar, Inc.)
Mark Schlissel, President of the University of Michigan, explained that: "This generous gift from Madeline and Sidney Forbes strengthens our ability to conduct lifesaving research originating from the University of Michigan's remarkable academic breadth. The Forbes Institute for Cancer Discovery will be another U-M center of excellence that supports innovation among faculty from many disciplines."
The Forbes Institute will also allow cancer researchers to conduct collaborative research. Projects to be undertaken in the institute include:
Help move research from the labs to patients through innovative technology and therapies.
Create scholarship programs for senior and emerging scholars – these scholarships will provide researchers with grants to further their work.
Provide team research awards to groups working on collaborative, multidisciplinary projects.
Developing new technologies that will speed up the process of developing cancer drugs, such as single cell genomics.
"Our Cancer Center has a national reputation for innovation and collaboration. This gift from the Forbes family will allow us to further accelerate our interdisciplinary work in ways that should truly improve patient care," explained Ted Lawrence, M.D., Ph.D., director of the UMich Comprehensive Cancer Center.